Yorkshire Air Ambulance told to stop using airbase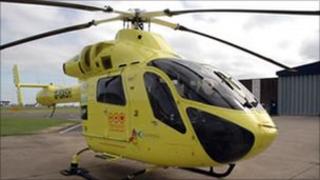 The Yorkshire Air Ambulance has been told to stop using an airfield base in North Yorkshire after it was served with 14 enforcement notices.
Hambleton District Council issued the notices to Bagby Airfield in Thirsk after breaches in planning permission.
Councillor Mark Robson said the planning team was working with the air ambulance to seek an alternative location, should the need arise.
Stephen Hoyle, manager at the airfield, said the team felt "victimised".
The council said three of the planning breaches related to the air ambulance.
It said the airfield did not have planning permission for one of its runways and for the erection of a hangar, and that business activities breached planning policy.
The owner of the airfield, Martin Scott, submitted a planning application earlier this year which was turned down.
'Alternative location'
Mr Hoyle said the airfield had re-submitted an application last week.
Mr Robson, cabinet spokesperson for housing and planning, said: "We are sympathetic towards the air ambulance.
"Nobody wants to lose the air ambulance from where it is and that is not what we are proposing to do in any way or form."
Mr Hoyle said: "If they do what they are trying to do, they are going to basically close this airfield and we don't understand why they would want to do this, in this current climate.
"That is why we feel victimised every time we try and do anything."
The airfield said it would launch an appeal over the enforcement notices to the council before 20 December.
The Yorkshire Air Ambulance charity has two aircraft bases, at Leeds Bradford Airport and Bagby.
A spokesperson for the Yorkshire Air Ambulance said: "We are considering our position, we have no further comment to make."