Hoyland pub uses swipe-card beer machine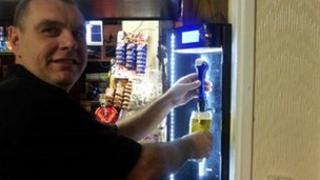 A swipe-card machine that can be used to dispense beer during busy periods has been installed at a South Yorkshire pub.
The machine enables customers to pre-pay for four pints at a time in the Queen's Head pub, Hoyland.
Landlord Dave Barron said customers must go to the bar to buy the pre-paid card so staff control its use.
Barnsley Council's licensing team is considering the legal implications of the machine's use.
Mr Barron also said staff could monitor how much alcohol is bought by customers.
Police visit
"The machine is in full view of staff at all times, and there's also a method of blocking a particular card, so if anyone has had too much, we can block that particular card," he said.
"The maximum anyone can get on a card at the moment is four pints.
"But if anyone comes to the bar and buys a card and then gives it to someone underage, we can see who is using the machine so we just block that card."
Mr Barron said there was a need for the machine when major sporting events were being shown on the pub's television.
"Customers like it, but we only use it at busy times, so when there's a big football match on or a boxing match we get really busy and it's not to reduce the amount of staff I've got," he said.
"It's just that during those 90 minutes we're absolutely packed and I can't just get two members of staff in for 90 minutes."
Simon Frow, head of licensing at Barnsley Council, said: "The Queens Head was visited by officers from the police and Barnsley Council to speak to the landlord and get a first hand understanding on how the dispenser works and how it will be managed.
"We need to consider a number of implications including legal issues and weights and measures before any further action will be taken."