South Yorkshire Police A57 snow response criticised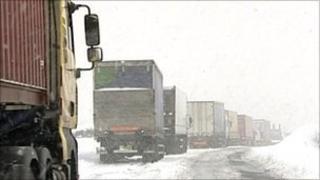 Drivers stranded for three days as a result of heavy snow in South Yorkshire could have died as a result of the slow police response, a report has said.
The report by the county's emergency services said South Yorkshire Police took too long to grasp the scale of the situation on the A57 last December.
Some 200 drivers were stranded for three days as a result of the snow.
The force welcomed the report and said its major emergency plans had since been updated.
During the snowfall, one of the heaviest experienced in South Yorkshire for many years, motorists and lorry drivers were stuck in drifts on the A57 Worksop Road between Todwick and Worksop.
'Lack of understanding'
Local residents stepped in to help out, providing hot food and setting up a temporary dormitory in a village hall.
Mountain rescue teams eventually helped South Yorkshire Police to take motorists from their vehicles on the affected stretch of road.
The report into the chaos on and around the A57 said there had been a "lack of co-ordination" between the emergency services in the early stages of the incident which prevented appropriate plans being put into action in a "timely manner".
There was also a "lack of understanding" of the scale of the incident in its initial stages, which meant that an effective response was delayed, according to the report.
It found that South Yorkshire Police had failed to recognise that a "critical incident" was taking place, leading to a 12-hour delay before a proper command structure was set up to deal with the situation.
'Significant changes'
It said it was "highly likely" that people would have died in the cold without the help of local residents.
Ch Supt Keith Lumley, from South Yorkshire Police, said he "welcomed" the report's findings.
"We had not seen anything like this in hundreds of years," he said.
"Because we have now experienced it, we are able to update the emergency plans and resources we've got so we can more easily identify the signals that lead up to incidents like this taking place."
He added that the force had made "significant changes" since the events of last winter to make sure that in future the seriousness of such incidents could be identified earlier.