Plans for £120m Sheffield biomass power plant unveiled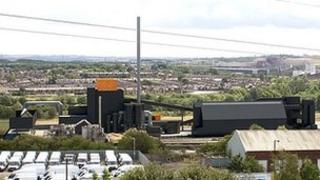 Final plans for a £120m biomass power plant to be built in South Yorkshire have been unveiled.
The plant, to be built near the former site of the Tinsley cooling towers in Sheffield, will generate enough electricity to power 40,000 homes, energy firm E.on said.
The company said the plant would create about 30 jobs when it became operational in mid 2014.
Work on building the plant is expected to begin at the end of November.
'Great news'
E.on said it would use recycled waste wood from the UK to power the plant at Blackburn Meadows, which would generate up to 30 megawatts of electricity.
The company promised that "as far as is possible" it would use local companies throughout the construction of the energy plant.
It said the Blackburn Meadows site had a "strong heritage" of power production with "excellent links" to Sheffield's electricity infrastructure and transport network.
Clive Betts, Labour MP for Sheffield South East, said the plans were "great news" for the area.
He added that the new biomass power plant would be "a much-needed boost for local jobs".
E.on said it would establish a community benefits fund worth up to £25,000 a year to support local projects throughout the lifetime of the plant.
It also said it was working with Sheffield City Council on a public arts competition, with the company committing £500,000 to a project to create a permanent art work for the area.