Former South Yorkshire PC jailed for £300m tax fiddle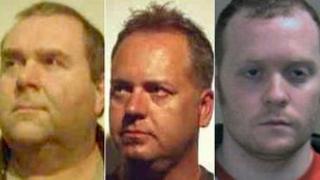 An ex-policeman who went from "rags to riches" in weeks by trying to fleece the taxman in a £300m fraud has been jailed for 10 years.
Nigel Cranswick, 47, of Danby Close, Kiveton, Sheffield, set up a fake technology firm to claim back VAT.
The firm claimed to deal in mobile phones and computer software, trading with £2bn worth of goods in eight months, Newcastle Crown Court heard.
HM Revenue and Customs say it is the largest VAT fraud case it has brought.
With the proceeds Cranswick, an ex-South Yorkshire officer, had his teeth bleached and rented a Spanish villa.
False accounting
He was director of the Sheffield-based Ideas 2 Go, which generated paperwork from fake sales to claim back the VAT.
Using details from hijacked or fictitious companies the gang produced thousands of invoices for sales of mobile phones and computer software, producing billions of pounds in fabricated turnover, which generated around £330m in fraudulent VAT repayments.
Cranswick was jailed, alongside Brian Olive, 56, of Buttermere Close, Doncaster and Darren Smyth, 42, of Beech Road, Maltby, who were each jailed for three years for their part in the fraud.
Judge Brian Forster also jailed former removal man Thomas Murphy, of Sycamore Avenue, Creswell, Worksop, who was jailed for four years and six months.
And Andrew Marsh, a former council housing officer, of Church Street, Wales, Sheffield, was jailed for two years and eight months.
All five had been charged with conspiracy to cheat the public revenue.
Cranswick's sister, sixth defendant Clare Reid, 44, of the same address as her brother, was jailed after admitting two counts of false accounting.
'Extravagant purchases'
Cranswick's firm invented over 6,000 fake business transactions in an attempt to make the repayments appear legitimate.
Speaking after sentencing, an HM Revenue and Customs spokeswoman said: "Cranswick was the ringleader who went from 'rags to riches' in a matter of weeks.
"He was heavily in debt and only weeks into his new business venture, he quit his job as a serving policeman and began splashing out on extravagant purchases.
"He made lavish improvements to his home, rented a luxury apartment in the Spanish town of Marbella and paid for private schooling and tennis lessons for his children."