Tears as Rotherham girl says 'I love you' for first time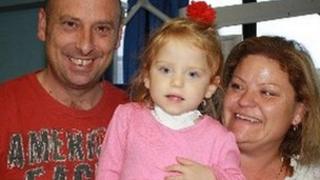 A toddler from South Yorkshire moved her parents to tears with her first words after doctors restored her voice.
Bronte Cassell was born premature at 25 weeks, weighing just 1lb 12oz, and had to have tubes fitted into her windpipe as she could not breathe on her own.
Doctors removed the tubes when the two-year-old, from Rotherham, underwent a tracheostomy operation at Sheffield Children's Hospital.
Her father Martin said her first words - "I love you, Daddy" - blew him away.
He said: "My wife said 'I love you too, Bronte' and she said 'I love you, Mummy'.
"Me and my wife just looked at each other and that was great. There were floods of tears, tears of joy for a nice welcome change."
Speaking to BBC Radio 5 live Drive, Mr Cassell said his daughter had previously communicated by mouthing words, using sign language and pointing at things.
He said: "It was really frustrating. Frustrating for us as parents, but really frustrating for Bronte as well.
"You could see that she was getting frustrated when she was trying to speak. She could mouth words but no noise would come out of her mouth."
Mr Cassell said Bronte would still need check-ups at the hospital over the next few months but she had a "new sense of freedom" since the operation.
"She can learn to potty train, wash her hair without worrying about getting the tube wet and enjoy playing with her older brother Noah.
"They are just little things really in the grand scale of things but they will make a massive difference to her quality of life."
Neil Bateman, ear, nose and throat surgeon at Sheffield Children's NHS Foundation Trust, said: "It was a pleasure to operate on Bronte and be able to give her this new lease of life.
"It can be hard for families adapting to a tracheostomy but for Bronte it has helped her to get through a difficult period of her life and it's fantastic she's now enjoying what a lot of other children can take for granted."