Dean's fears over Occupy Sheffield protest camp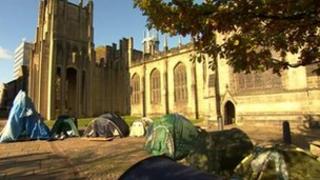 Sheffield's Dean says he fears that the cathedral's work with "vulnerable people" could be harmed by a protest camp.
About 50 members of Occupy Sheffield, who are protesting against "poverty and capitalism", pitched tents outside the cathedral on 5 November.
The Very Reverend Peter Bradley said the cathedral would take no action against the camp at present.
The group said it was a peaceful protest at an "ideal" location.
Dean Bradley said: "I would prefer it if the protest wasn't outside the cathedral.
"My real concern is that the work we do, caring for the homeless and serving the city, should be able to continue uninterrupted."
'Best place'
Occupy Sheffield said the camp was inspired by the protest outside St Paul's Cathedral in London.
Gav Roberts, from the group, said: "We've not had much engagement with the cathedral so far. We want to protest somewhere and we feel this is the best place to get our message across as we're just across from a couple of banks, close to Cutler's Hall."
Dean Bradley said he respected the right of the protesters to have their voices heard.
He added: "For over 20 years the cathedral has worked with partners throughout the city and region to give a voice to the homeless, the most vulnerable people in our community.
"It is our hope that the care the cathedral offers to many very needy people will not be impeded or reduced by the presence of protesters here."
Occupy Sheffield said the protest would not hinder the work of the cathedral.
Mr Roberts added: "I think the church as an organisation and all Christians out there should actually support us in this."