Protest camps set up outside Sheffield Cathedral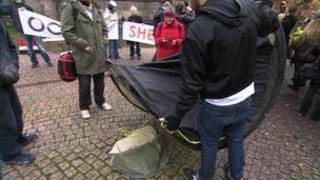 Campaigners have established a camp outside Sheffield Cathedral against the wishes of the Dean.
Around 50 campaigners marched from City Hall to the Cathedral, protesting "against poverty and capitalism".
The cathedral said the campaigners did not have permission to be there and hoped they would not impede the work of the church.
Campaigners, from Occupy Sheffield, say they have been inspired by the protest outside St Paul's Cathedral in London.
'Ideal' location
Occupy Sheffield said it had chosen this venue because it was an "ideal" location just over the road from Cutlers' Hall.
The building has always been used by the city's rich and powerful, the group said. There are also a number of high street banks in the area.
In a statement Sheffield Cathedral said the protesters did not have permission to use the churchyard.
It continued: "We respect their right to make their voices heard but we hope the care we offer to the very needy will not be impeded or reduced by the protesters."
Occupy Sheffield said the camp would remain outside the cathedral for as long as possible.