Memorial for Sheffield's Women of Steel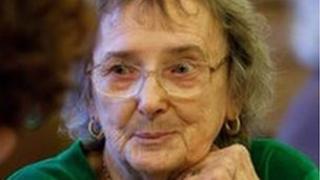 A memorial to Sheffield's Women of Steel has been unveiled.
The women worked in the steelworks to keep production going during World War II when the men went off to war.
A commemorative plaque was revealed by four of the women and a female apprentice from Sheffield's steel industry on 5 November.
The city's lord mayor and council leader attended the event at Barker's Pool.
Ruby Gascoigne, Kathleen Roberts, Dorothy Slingsby and Kit Sollit, who worked in the steel works in Sheffield during the war, unveiled the plaque.
'Crucial contribution'
There are also plans for a Women of Steel statue in the city centre, which is likely to be made of bronze.
The council has raised £28,000 for the project and is hoping to raise a further £120,000 so the statue can be put in place by November 2012.
Councillor Julie Dore, leader of Sheffield City Council, said: "The plaque unveiling was just part of our plans to pay our city's Women of Steel the respect and honour that they deserve.
"Their valiant efforts were a crucial part of the contribution Sheffield's industry made to the war effort in both world wars.
"We are keen that both the plaque and the statue are seen not just as a memorial to a remarkable group of women but an inspiration for the future, and hope people will join us in the celebrations."