Michaela Hague murder: 10-year anniversary appeal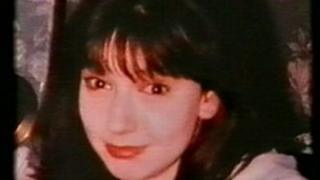 The partner of a murdered mother from Sheffield has made a fresh appeal to catch her killer.
Michaela Hague was stabbed and left for dead on waste ground in Spitalfields on 5 November 2001. She is thought to have been working as a prostitute.
Miss Hague's partner, Mick Holmes, said her death had "destroyed" him, his son and Miss Hague's family.
Mr Holmes asked anyone who knew about Miss Hague's murderer to come forward, saying: "Give him up. He's a killer."
"He's had 10 years of freedom he should never have had," he added.
'Gone forever'
Mr Holmes said that his son never had the chance to be brought up by his mother.
"One minute she was setting off fireworks, the next minute she was gone forever," he said.
Miss Hague, 25, was found semi-conscious by a friend shortly after 20:00 GMT in a secluded car park.
She had 19 stab wounds to her neck and back and died at the Northern General Hospital almost three hours later.
PC Richard Twigg, the first officer on the scene, was able to record the killer's description from Miss Hague by writing on the palm of his hand.
Miss Hague described the man who stabbed her as white, about 38 years old and clean shaven.
She said he was about 6ft (1.8m) tall and he wore a blue fleece, glasses and a wedding ring.
'Working hard'
Det Supt Lisa Ray, from South Yorkshire Police, said she had been looking very closely at the case as the 10th anniversary approached.
She said: "We do have some DNA profiles and we are now working hard to try and identify whose DNA this is.
"We are looking for these people. It may be the offender or it may be witnesses."
Police believe Miss Hague, from Pitsmoor, was involved in street prostitution and was picked up in the Bower Street area some time after 19:00 GMT on the night of her death.