New £4m Sheffield grassroots football centre approved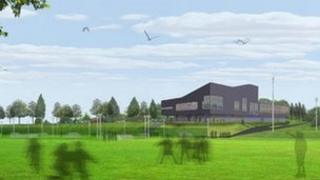 Plans for a new £4m centre which will be the home of grassroots football in Sheffield have been approved.
The development on the site of the former Westfield school will include eight grass pitches, a gym, cycling track and physiotherapy clinic.
The 28-acre (11.3 hectare) site will be the new home of the Sheffield and Hallamshire County Football Association.
The association said it could now concentrate on raising funding.
Chief Executive James Hope-Gill said: "Receiving planning permission is a significant step forward and we can now concentrate fully on raising the funding and capital needed to make the project a reality."
Funding is expected to come from grants via The Football Association, The Football Foundation, Sport England and the Rugby Football Union.
The association said the site currently had eight "poorly-drained" pitches with vandalised changing facilities which were used by more the 20 weekend football and rugby union teams.
It is hoped the site will be open in 2013.