London 2012: South Yorkshire Olympic torch route unveiled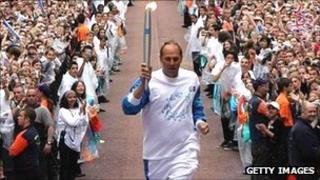 The places in South Yorkshire the Olympic torch relay will visit next year have been announced.
During two days, in June 2012, it will visit 19 places in the county.
The torch will arrive in the Barnsley village of Lundwood on 25 June. Celebrations will be held in Sheffield, where the torch will remain that night.
The procession will continue through South Yorkshire the following day, visiting places including Rotherham, Doncaster and Hatfield.
The torch which will travel through the borough of Barnsley, including Lundwood.
Olympic hopeful Adele Lassu said she was "really excited" that the Olympic torch was passing through her home town of Barnsley.
"It's a massive community thing. Everybody gets excited about the torch relay. That's just as exciting to me as what it would be to compete," said the high jumper.
When the overnight stay in Sheffield was announced earlier this year, Councillor Julie Dore, leader of the city council, said it was "very exciting".
"Sheffield is a great sporting city," she said.
"We host many elite international sporting events, as well as being the training base for several British Olympic and Paralympic teams. Our expertise and facilities has attracted several countries to base themselves here prior to the London 2012 Games."
Thousands of torchbearers are being recruited for the flame's 70-day journey across the UK before the opening ceremony in London.
The Olympic flame will arrive in the UK from Greece on 18 May 2012.
The relay will begin at Land's End, Cornwall, on Saturday, 19 May and end on Friday, 27 July in the Olympic Stadium.
It is estimated it will be carried 8,000 miles.