Sheffield mother and daughter killer sent to hospital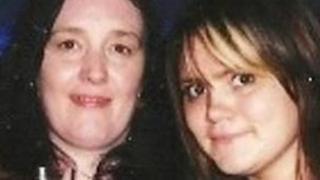 A man who stabbed a mother and daughter to death in a "frenzied and brutal attack" has been detained under the Mental Health Act.
Rekawt Mahmood Salih, 25, killed Tracy and Louise Donnelly at a house on Ironside Road, Sheffield, in March.
Salih, of Callow Mount, Gleadless Valley, admitted manslaughter on the grounds of diminished responsibility at Sheffield Crown Court.
He was given a hospital order without a time limit.
The bodies of Tracy Donnelly, 42, and her daughter Louise, 23, were found at the house on 29 March.
The killings were described by police at the time as a domestic incident.
Family 'nightmare'
Speaking after the sentencing Maureen Donnelly, Tracy's mother, said: "Two generations of my family have been taken away in the most terrible way imaginable.
"Today I take satisfaction from knowing that the person responsible for their deaths will not be able to hurt anyone else.
"He has taken from us my daughter and granddaughter and a mother and sister from Ashley and Daniel, my grandsons.
"I hope today our nightmare fades a little and we can look towards a future. I have not been able to attend Sheffield Crown Court because of the distress and trauma this has caused me.
"No-one can replace what we have lost. Tracy and Louise will remain in our hearts."
Det Insp Sean Bird, of South Yorkshire Police, said Salih was a "dangerous man who committed a frenzied and brutal attack on a defenceless mother and her daughter".
He said: "His actions have devastated the lives of those close to Tracy and Louise Donnelly and we are satisfied with any outcome that removes him from society.
"The hospital order, imposed by the judge, keeps Salih locked away without a time limit and this is the best way to protect the public at large."