Reprieve for Doncaster's closure-threatened libraries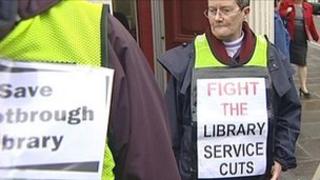 Two libraries in Doncaster which were due to close have been given a temporary reprieve.
Last month Doncaster Council announced that it was to withdraw funding from 14 of its 26 libraries.
The council's Labour group has called in the mayor's decision to close Denaby and Carcroft libraries, arguing it goes against council strategy.
The authority, run by English Democrat mayor Peter Davies, said the libraries would stay open till 10 November.
Doncaster Council announced in October that it was to close the two libraries, replacing them with a mobile service, and run 12 others using volunteers as it looks to save £80m over four years.
Raising concerns
Labour Councillor Kevin Rodgers, who called-in the decision, said: "The borough strategy says clearly that we concentrate our efforts and resources where standards of living and life chances need to rise the most."
Carcroft and Denaby libraries, which were due to close on 1 November, will remain open until the issue is discussed on 10 November by the council's overview and scrutiny committee.
Mr Rogers said he planned to raise his overall concerns for the 14 libraries at the meeting and would look to suggest other ways that the council could save money.
He added: "We've got the look at other things that are not frontline services."
Following the meeting, the committee will present a series of recommendations to the mayor, who represents the authority and the borough and is accountable for all strategy and policy decisions.
The council has faced strong opposition from campaign groups since it earmarked the libraries for closure last year, with a number of protests held in the town.
Campaigner Lauren Smith who has been part of the Save Doncaster Libraries campaign, said she was "hopeful" that the meeting next week would make a difference.
The council has said the 26 libraries cost £5.26m a year to run, excluding the cost of maintenance.