Sheffield roads closed for Fright Night community event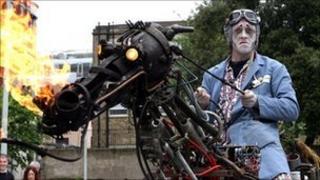 Roads in Sheffield will be closed to traffic on Sunday for a community Halloween event.
Pinstone Street and Leopold Street will be closed to all traffic from 13:00 to 21:30 GMT.
City centre roads including Fargate, Tudor Square, Surrey Street, Millennium Square and Winter Gardens will also be closed.
About 40,000 people are expected to take part in Fright Night, a free event which is in its 11th year.
It has been described as the biggest community event in Sheffield.