Almost 10,000 Doncaster Council workers face 'dismissal'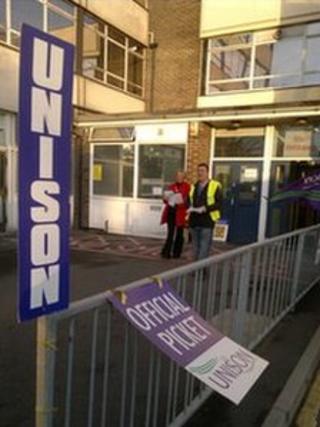 Almost 10,000 council workers could have their contracts terminated, a union has warned.
Unions and management at Doncaster Council are holding talks about possible cutbacks aimed at saving the authority £7.5m.
The union Unison says the council is planning to dismiss 9,941 workers and re-employ them on revised terms.
The council's finance director Simon Wiles said negotiations were continuing on a range of options.
Union spokesman Robin Symonds said he was "shocked" when the authority issued a notice to the union saying it was considering terminating thousands of employees' contracts.
Mr Symonds said: "There is no legitimate reason why the council should issue the notice halfway through our negotiations and we can only conclude that it is intended to bully us into agreement.
"This 'agree or else' ultimatum is a cynical move by the council and is not helpful to what is already a difficult process.
"The very last thing they need right now is to be threatened with dismissal."
'Not preferred outcome'
Mr Wiles said: "We are following the formal collective consultation process because ultimately if we are unable to achieve our preferred outcome of reaching a collective agreement, one option available to us is to terminate and re-engage staff contracts of employment.
"However, this is not our preferred outcome.
"The stark reality is we need to make savings of up to £7.5m from changes to terms and conditions in order to balance our planned 2012/13 budget.
"We have put forward a range of options for consideration by the unions and we will continue to make every effort to drive forward negotiations with them in order to reach an agreement."
The union is now asking the council to rescind the notice and to allow negotiations to continue.