First piece of Rotherham United's new stadium in place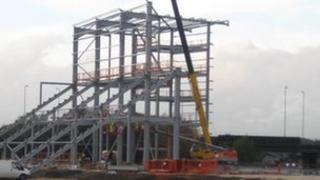 The first piece of metal framework for Rotherham United's new £17m stadium has been put in place.
The club is building the 12,000-seater stadium on the former Guest and Chrimes foundry site, in the heart of the town.
Chairman Tony Stewart said it was "brilliant" to see the first stage of the structure. He said it was a "big day" for the town and the club.
Rotherham United are expected to move into the stadium for the 2012-2013 season.
Mr Stewart said: "A lot of time and effort has been put into this, including three years of planning, and to see the first stage of structure today, it's brilliant.
"The planners are saying that July 11th is the date we will be ready to go in and kick off."
Andy Kemp, from developers GMI Construction, said: "The steel erection has begun, and will continue until January when the next phase will take over, but by the end of the year the stadium will be very much visible.
"Next week a second team will come on the site and the south stand will start. Hopefully we'll be able to get the roof on in early January or February."
The club has installed a webcam so people can watch how the construction develops.