Swinton canal safety plea by father after son's death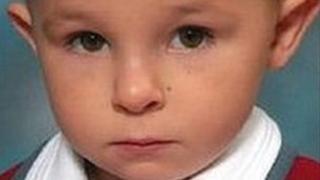 The father of a boy who fell into a South Yorkshire canal and died has called for improved waterside safety.
Eight-year-old Matthew Cartwright died after falling into the Swinton canal in August.
His father, Wayne, wants to see fencing and signs installed to make other children aware of the dangers.
Residents who collected names on a petition for fencing will meet with Rotherham Council and British Waterways to discuss the options later.
A spokesperson for British Waterways said: "We are meeting with the local community to work with them to reduce the risk of another tragic accident occurring in the future."
Safety improvements
Mr Cartwright said he had been left "absolutely devastated" after the death of his son, describing Matthew as a "happy-go-lucky boy".
After visiting the scene of his son's death, Mr Cartwright said: "The canalside is a mess. You wouldn't know it was there. It's overgrown, no signs, no fencing."
More than 800 signatures were presented to the council last month by concerned parents and residents who want to see safety improvements in the canal area.
"I wouldn't like this to happen to anybody else. I don't want anyone to go through the pain I've gone through," said Mr Cartwright.
"It's been very, very hard."
Mr Cartwright also plans to raise money to place a memorial bench by the canal.