South Yorkshire Fire and Rescue plan station closures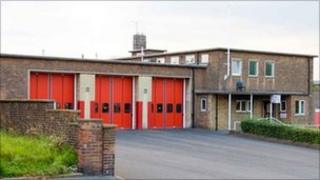 South Yorkshire Fire and Rescue Service is planning to close three Sheffield fire stations, the BBC has learned.
Darnall and Mansfield Road stations would be replaced by a new station near the Sheffield Parkway and Mosborough station could also be replaced.
The Fire Brigades Union (FBU) has called the idea "preposterous".
A South Yorkshire Fire Service spokesman said "changes had to be made" in an effort to make "£10m worth of savings" from a £60m budget.
It added that management and administration costs had already been cut by 25%, but this had only generated savings of £2.8m.
'Devastating effect'
Mark Shaw, the assistant chief fire officer from South Yorkshire Fire and Rescue Service, said: "We've got to operate within a reducing budget and changes need to be made to service provision.
"We've done the research and the recommendations that have been made we believe will have the least impact on services across South Yorkshire."
The authority has seen a 9.5% reduction in grants from the government in 2011/12. That will be followed by a further 3.4% cut in 2012/13.
Under the plans, which have not been presented to the fire authority yet, part-time crews at Edlington and Royston fire stations would also be removed.
John Gilliver, from the South Yorkshire FBU, said: "It will have a devastating effect on the public. We're supposed to be calling on community fire stations and yet we're taking the community facility away.
"We've got an increased population in South Yorkshire, an increased industrial premises, the risk has increased and yet they're trying to decrease this brigade and the facility we provide."
Mr Shaw said: "At the moment these are proposals and they're still being worked up. They will go to the Fire Authority at the end of October.
"We're seeking an agreement in principle from Fire Authority members but then it will be subject to a 90-day public consultation."