MP Paul Blomfield 'fit' again for Commons after tumour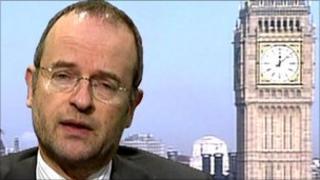 Sheffield Labour MP Paul Blomfield says he is "fit enough" to return to parliament, just weeks after undergoing an operation to remove a brain tumour.
Mr Blomfield, 57, who has been Sheffield Central MP since May 2010, underwent 12 hours of surgery at the Royal Hallamshire Hospital in August.
The operation was carried out after doctors discovered a "major" tumour.
Mr Blomfield said he was "looking forward" to getting back to the House of Commons when it returns on Monday.
Surgeons operated on Mr Blomfield on 11 August, just hours after he was diagnosed with a tumour pressing against his optic nerve.
'Looking forward'
Mr Blomfield said such a short time between diagnosis and going into surgery had come as "a bit of a shock".
"You barely have time to think. It's a whirlwind because you spend the following 24 hours preparing for the operation," he said.
Mr Blomfield said he had "nothing but praise" for the NHS.
"The referral, the quick diagnosis, the prompt action and the preparations all meant that, although I was on the operating table for 12 hours, the following morning I was having my cornflakes," he said.
Mr Blomfield said he was now "80-90%" healthy and was ready to take up his parliamentary work again.
"It's going to take a little bit of time to be fully fit again, but I'm fit enough to be back at Westminster," he said.
"I'm looking forward to it as there's lots to be done."