Don Valley: Million pound artwork and power plans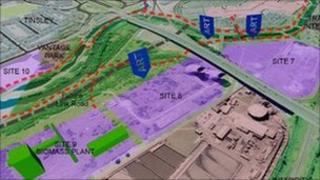 Multi-million pound plans to regenerate the lower Don Valley in South Yorkshire have been revealed.
Sheffield City Council have said a £4m public artwork will be at the centre of a dozen redevelopment sites by the M1.
The public will be able to visit the artwork and it will be viewable from the Tinsley viaduct, the council said.
Power company E.On is providing £500,000 for the project and is also in the final stages of a planning process for a biomass power station.
Outline planning permission was granted three years ago and a further application has been made containing more details on the proposed plant, by junction 34.
When asked about the potential for new jobs, Stephen Marsh, from E.On, said: "We'd certainly hope so.
"Obviously it's a large scale plant and of course there is an impact into local jobs through the supply chain as well."
'Major tourist attraction'
Some of the areas earmarked for regeneration have proposals attached to them and the authority has said it hopes the artwork will be a "calling card" for other future developments.
One of the proposed redevelopment sites is the former site of the Tinsley cooling towers, which were demolished in 2008.
When the demolition took place, E.On said it would provide funding towards a piece of public art.
The artists have yet to be shortlisted and a design is to be chosen at the beginning of 2012.
More than £25,000 has been provided by the regional Arts Council.
Its regional director, Cluny MacPherson, said: "Our funding has gone to support community involvement and engagement.
"The projects which are most successful are those where the community is talked to. They have to live near and be the advocates for whatever comes out of it."
Cllr Helen Mirfin Bourkouris said: "It'll be, hopefully, a major tourist attraction.
"The Arts Council themselves have said it has the potential to be one of the most viewed pieces of artwork in the country because of it's location."