Rotherham United installs webcam to follow new stadium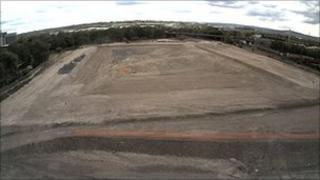 Rotherham United have installed a webcam so people can watch the progress of its new stadium take shape.
The club has started work on the build of a 12,000 seater community stadium in the heart of the town.
The Millers have played at Sheffield's Don Valley Stadium since 2008, after a deal to remain at former ground Millmoor fell through.
Chairman Tony Stewart said the webcam was an opportunity to show people that a new generation was happening.
The webcam will give people the opportunity to watch how the construction develops over the next 11 months.
The site by the waterfront has been cleared and lifted by two-metres as part of stadium's flood defence.
Over the next five months the club have said that the steel framework and concrete which forms the seating and steps will be visible and will start to "represent a stadium".
'Ahead of schedule'
Mr Stewart told the BBC the club would be ready to play on the pitch of the new £17m stadium on 11 July 2012.
He added: "We're six weeks ahead of schedule and we've been assured that this is the date and this is why I'm saying it with conviction and confidence.
"When we make a promise, we keep them."
The new football ground is part of the Rotherham Renaissance Scheme which will see £40m invested in the town centre over 25 years.
The Football Association gave the football club five years to move back into the town after it relocated to nearby Sheffield as a temporary home.