Fanzine collection unveiled by Sheffield couple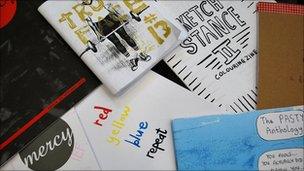 An archive dedicated to fanzines has been set up by a couple in South Yorkshire.
The pair, who live in Sheffield, have collected more than 500 independent publications, including The Pasty Anthology.
Peter Martin and Orla Foster say it is a "great selection" of curious publications from across the world.
The magazines are on show in Rotherham and will later be put on display in Sheffield.
Mr Martin decided to create the collection after taking an interest in the magazines, because of no internet access at home.
"It made me realise how much effort people are putting into these things and I thought it'd be great to archive them," he said.
Publications included one by a woman from Sheffield who has listed her favourite music made by girls called Eeek, which is handwritten.
From one man's drawings of his favourite trainers of all time to another's dismay at 'Why I Hate Chelsea FC'.
Ms Foster said: "There are quite a few that are written by hand, like a diary or letters but they are widely distributed.
"Some people write journals of their favourite bands. It's basically any subject that you're interested in."
The display will be available to view at Rotherham's Old Market Gallery before being moved to Sheffield's Site Gallery, from 23 August to 7 September.
The couple have been sent hundreds of fanzines and are inviting more people to send them more.
Ms Foster said: "As long as people are indulging their interest we'd like to hear from people."
Related Internet Links
The BBC is not responsible for the content of external sites.