Truth of Sheffield's 'I Love You Will U Marry Me' graffiti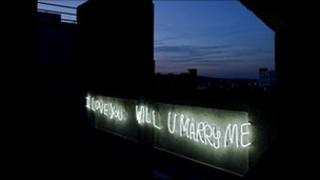 It has been part of Sheffield's skyline for more than 10 years.
Scrawled in paint on a bridge at the city's grade II-listed Park Hill flats, "I Love You Will U Marry Me", has been visible for miles.
Now, it has neon permanence, as "an invitation to the city", by the firm restoring the flats in their 50th year.
However, many people do not know that the full graffiti declaration read "Clare Middleton I Love You Will U Marry Me", or who created it.
But, after a decade a man called Jason has come forward to claim: "It was me, I did it in April 2001.
"I leant over with a paint can as far as I could."
Jason, who is not named in full, had been dating Clare for over a year, before made a public show of proposing to her, despite being scared of heights.
"You used to be able to see it from the Odeon cinema," he continued.
"I took her there, she thought she was going to see a film and I said 'I've got something to show you' and I told her to look up and she read it.
"She said 'yeh'. She thought I was mad."
However, events did not end up running smoothly and the pair did not marry, splitting up three months later.
Ms Middleton, who has since died of cancer, was going to marry Jason, according to her mother.
"At the time she was in love with him," she said. "[But] things went wrong. She did get married in the end but not to Jason.
'He was obsessed'
"He used to follow her around town saying, Clare will you marry me, she kept saying 'no'.
"I think he did love her. He was obsessed."
In June this year Urban Splash, which is re-developing Park Hill flats, announced it was going to make a permanent feature of Jason's proposal.
Ms Middleton's stepfather says he "can't believe that they've spent all this money doing up these flats up and they've left graffiti on it".
"Clare would laugh, she would think it would be funny," he said
The firm said it deliberately left off Miss Middleton's name, but Jason is not happy with the decision.
"They can't leave one off without another, it was wrote as one purpose," he said.
"If they're gonna keep it, they've gotta keep all of it. This wasn't to anybody this was wrote specifically for Clare."
Urban Splash has described the declaration as "iconic" as well as an "invitation to the city."
However, Ms Middleton's sister Jackie, wishes "it would be taken down and washed off."
"It's a big part of Clare's story and how Clare was and how very destructive her life was," she said.
"It doesn't represent what they think they want it to represent. Other people think it'll be nice for her children to see it."
Ms Middleton was described as "chaotic", "happy", "lovely", "daft" with "problems" but despite her complicated life, which involved drugs and social services, "she loved a love story."
Jason explains why he loved her: "There was something about her. She had really deep brown eyes, it was her mystical brown eyes.
"She was such a loving person."
Ms Middleton died in March 2007.
You can listen to The I Love You Bridge on the BBC iPlayer until Sunday 14 August.