York Gay pride remembers campaigner David Kato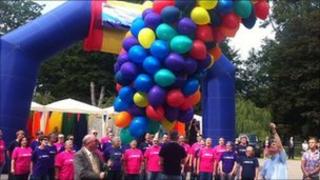 A York gay rights campaigner who was murdered in his home country of Uganda was remembered in the city.
Saturday's gay pride event was dedicated to David Kato, who was a student at The University of York and was beaten to death in January in his own home.
A mass release of rainbow coloured balloons was organised to commemorate his life and work.
The event is in its fifth year and took place at Rowntree Park.
The city's Lord Mayor was joined by the Sheriff and MP Hugh Bailey in backing Gay Pride 2011.
Chair of York Pride, Dan Sidley, said: "Despite the great progress in our own society, prejudice is still relatively commonplace and it is really important for us to get the backing of York's political and civic leaders."
Mr Kato was based at York University's Centre for Applied Human Rights in 2009 and 2010.
He was murdered at his own home shortly after winning a court case against a Ugandan newspaper which had called for his execution.
Homosexual acts are illegal in Uganda, with punishments of 14 years in prison.