Rotherham town centre Minster Gardens officially open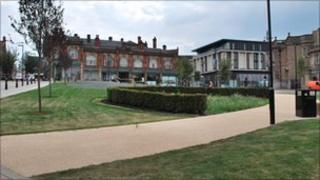 A garden in the centre of Rotherham has opened on the site of a former retail and office block.
The space was originally due to be built on, but after demolition, the council decided to transform it into an urban green space.
The project cost £330,000 with funding coming from Rotherham Metropolitan Council and external grants.
Cabinet member Gerald Smith said: "The gardens complement the surrounding buildings perfectly."
The Minster Gardens, which are over looked by the town's Minster, has space for open-air events, lawns and a meadow area. It also features the original foundation stones from Rotherham's market hall as seating.
Rev Canon David Bliss, the vicar of Rotherham, said: "The whole area is beautiful and the new view of the Minster across the Minster Gardens is stunning."
The All Saints building, a mix of retail units and office space, was demolished in 2008.
As part of the regeneration of this area of the town centre the Minster churchyard has also been improved, which was funded separately by Yorkshire Forward and the Heritage Lottery Fund.
It has been fully landscaped and given natural stone paving, improved grassed areas, new access and steps on to Church Street, oak seating and under-seat lighting.