Sheffield boy has operation to create a new ear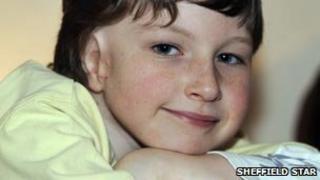 A nine-year-old boy from Sheffield, who was born without a right ear, has undergone the second stage of an operation to create a new ear.
Ethan Giles-Bowman suffers from Goldenhar syndrome which leaves babies with an underdeveloped face.
In September 2010, Ethan had an operation to create an ear using cartilage from his ribs.
The second operation released the new ear from under the skin on his head so it juts out.
The reconstruction process starts with creating a skin pocket at the site of the ear by pulling and stretching the tissue already there.
Three small pieces of rib cartilage are harvested which are then carved and wired together with fine stainless steel wire to make a detailed framework that resembles an ear.
This framework is then carefully inserted in the skin pocket.
When he was born, Ethan had only small amount of earlobe, with the rest of the upper ear not fully formed.
Prosthetic ear
Due to his condition, Ethan has no hearing on his right-side and although it will not restore the lost hearing, the procedure completes his ear's look.
He said: "The ear looks amazing, it looks like my other ear but it has stitches in it."
Ethan made the decision to have the operation to create a new ear after having problems with a prosthetic ear which was attached with glue.
His mum, Kathryn Giles-Bowman, said: "The teachers at his school could not replace it if it became dislodged, which often led to Ethan having to wait for a family member to come and replace it, leading to him feeling isolated."
"We are very proud of him, he has dealt with things so well."
He is one of the first children in the UK to undergo such surgery, which took place at the London Royal Free Hospital.