Tramlines Festival opens this weekend in Sheffield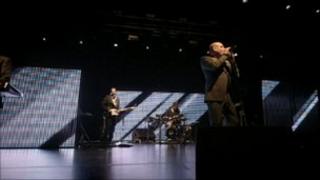 This weekend sees the return of the annual free music festival, Tramlines, in Sheffield.
The festival which started in 2009 was set up to celebrate the wealth of Sheffield's diverse music.
This year will see more than 600 bands performing throughout the city, across 70 venues in three days, starting from Friday.
The festival will host a range of acts including Ash, Pixie Lott and Radio 1 DJ Toddla T.
This year's Tramlines is centred around eight musical genres - pop, rock, indie, new music, world, folk, blues and dance.
Heaven 17, one of Sheffield's best-known bands, will be performing on an outdoor stage on Barker's Pool to launch the event.
Lead singer Glenn Gregory told the BBC that he was "excited" about the gig.
"Sheffield has always been important for music," he said. "
"We love playing in Sheffield, we played all sorts of random places in the city, but never played an outdoor gig in Barker's Pool, I don't think anyone has."
The band will be performing with a surprise female guest.
'More adventurous'
James O'Hara, one of the event organisers, told the BBC that the free festival made it unique.
"It allows people to be a bit more adventurous and go and see things that they might not usually see because they are not having to pay for a ticket."
Last year the music festival attracted more than 125,000 people to the centre of Sheffield.
This year, organisers estimate that 175,000 people will experience the festival during the three-day event.