Food bank to open in Rotherham for desperate families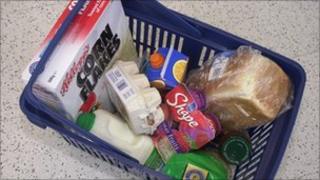 A charity is opening up a food bank in South Yorkshire to help struggling families put food on the table.
The Trussell Trust helps local churches and communities to open food banks, providing emergency food for people on low incomes who might be faced with a sudden crisis.
The food bank will open at Hope Church in Rotherham in September.
Danny Miller, Pastor of Hope Church, said: "We are meeting a lot of people who are struggling."
The scheme will involve services identifying people who need help feeding their families being given food vouchers which they will trade in at the food bank in return for food.
Mr Miller said: "Families might be working but they might be one month away or a pay cheque away from a crisis."
The Trussell Trust has around 125 food banks across the UK but this is the first scheme to be opened in South Yorkshire.
Mr Miller added: "There are kids in Rotherham who are going to school without food and that can't be right."
The food bank is due to open in September and the church is looking for volunteers to get involved.