Journalists on indefinite strike over newspaper job cuts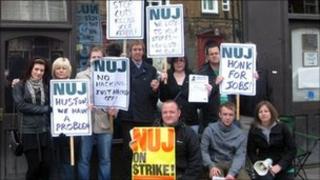 Journalists working for five newspapers in Yorkshire are on indefinite strike over job cuts.
Members of the National Union of Journalists (NUJ) are striking over cuts proposed by Johnston Press, owners of publications including the South Yorkshire Times and Goole Courier.
NUJ regional organiser Chris Morley said the changes would leave "journalism in jeopardy".
Nobody at Johnston Press was available to comment.
Other newspapers affected are the Doncaster Free Press, Epworth Bells and Selby Times.
The NUJ said that under the proposed plans 18 jobs would be cut and editors across papers owned by the group would be merged.
Members of the union have also passed a vote of no confidence in senior management at the company.
Staff from the newspapers have been on strike since 15 July after 90% of their NUJ members voted for the action.
The NUJ said it remained committed to strike action until the dispute is resolved.
Hayley Patterson, a reporter at Johnston Press who was on the picket line in Doncaster, said: "We don't want to go out on strike. We feel so passionately about this that we need to get our message across."
The union's Mr Morley added: "Our members believe good quality journalism has a future - and is the only way the company build a sound business in the current climate."