New plans for The Moor in Sheffield revealed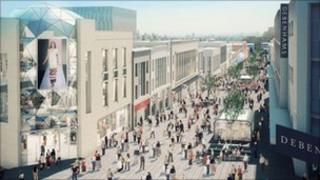 The project to redevelop The Moor shopping street in Sheffield has moved a step closer to completion, with plans for the first building revealed.
Site owner Scottish Widows has put in a planning application for a 55,000 sq ft retail block at the top of the street, opposite Debenhams.
The building will feature a large digital screen and space for two shops and a department store.
It is part of the multi-million pound redevelopment of Sheffield city centre.
In June, Sheffield City Council granted planning permission for 200 new stall markets and six retail units on The Moor.
Ranald Phillips, director of Centenary Ashcroft, the firm appointed to oversee the development, said: "This is a high quality retail scheme for the city and it will provide the people of South Yorkshire with much improved and needed facilities.
"The new designs for the top of The Moor show our intent on creating something that Sheffield can be proud of."
A decision on the planning application is expected in the autumn.