South Yorkshire M1 is closed by smoke from lorry fire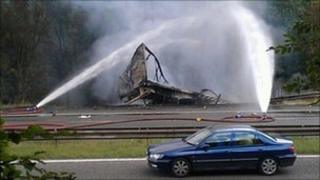 The M1 motorway in South Yorkshire was closed for more than two hours as thick black smoke from a lorry blaze spread across the road.
Two lorries collided between junctions 36 and 37, near to Barnsley, leading to plastic pallets on one of the vehicles catching fire.
Residents and businesses close to the motorway were warned to keep doors and windows closed.
One lane of the northbound carriageway remained closed.