First black pro footballer Arthur Wharton inspires grant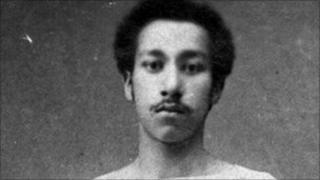 A grant of £117,000 has been awarded to a Sheffield organisation to tell the story of football's first professional black player.
Football Unites, Racism Divides (FURD) wants to raise the profile of Arthur Wharton, who played for Sheffield United and Rotherham Town in the 1890s.
He was also a highly skilled professional athlete and cricketer.
The money from the Heritage Lottery Fund will enable a film to be produced on Wharton's life.
Moving footage
Howard Holmes, from FURD, said: "We have championed the incredible life of Arthur Wharton but there is still so much that remains hidden.
"The holy grail for us is to find some moving footage of Arthur Wharton in action, so we are appealing to anyone who might have some footage of him playing to come forward."
The film would be distributed to schools, community groups and football clubs.
FURD is hoping to run drama workshops, a Victorian sports day, a travelling exhibition, create teaching packs and an interactive website.
Fiona Spiers, from the National Lottery Heritage Fund, said: "We were very impressed by the bid. We are hoping that this scheme will really engage with young people."
Wharton was born in 1865 in Jamestown, Gold Coast, which is now Ghana. His father was half Grenadian and half Scottish. His mother was a Ghanaian royal.
Died in workhouse
This privileged background meant he was sent to Britain for an English education in the early 1880s, where he excelled in sports.
In 1886, Wharton won the AAA's blue riband 100 yards event at Stamford Bridge.
He played for Rotherham Town, Sheffield United, Preston North End and Stockport County during his career between 1886 and 1902. He died in a workhouse sanatorium in 1930.
In 1997, FURD raised money to place a headstone on his unmarked grave in Edlington, near Doncaster.