MP Dan Jarvis supports law change over high cost lending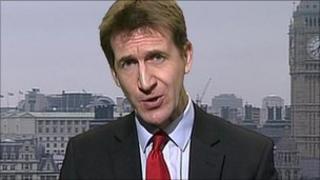 A Barnsley MP is calling for a change in the law to stop firms supplying loans to vulnerable people and charging "extortionate" interest rates.
Dan Jarvis said many of his constituents in Barnsley Central had come to him because they were struggling to make repayments.
His calls are supported by Goldthorpe Credit Union which said it was dealing with such stories every day.
Mr Jarvis said: "These people should not be allowed to get away with it."
The Barnsley MP will be supporting a Labour amendment to the Government's Finance Bill due in the Commons later, which calls for further regulation of high cost credit lending.
Mr Jarvis said such firms targeted specific areas in his constituency and across the country in places where they know people were more likely to sign up.
"It's a real issue in these difficult economic times where people have frankly been taken advantage of by the legal loan sharks who have offered money at extortionate rates."
Gail Foster, branch manager at Goldthorpe Credit Union, said: "People get to the point whereby a doorstep lender will knock on the door and they are that desperate they will take it and it's only afterwards that they realise exactly what they've got themselves into.
"They feel like they are at the end of their tether they don't know what to do and where to go and who to turn to."
One woman from South Yorkshire said she was forced to turn to a doorstep lender when her partner left her with debts.
"I got a loan to pay off my debt and I just got sucked in. I think it was 299.4% APR and I got myself into a mess with it."
Mr Jarvis added: "If you do need to borrow money through these difficult times in the first instance you should go and take proper advice, for people in Barnsley from the South Yorkshire credit union.
"We're trying to force the government to bring in legislation to make sure they are not able to do it in the way they are at the moment."