Spray paint picture of Andrew Carnegie in Rotherham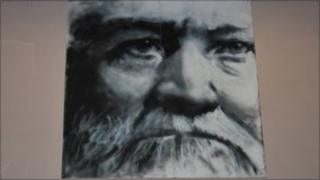 Some of Britain's 200,000 hidden paintings are available for the public to see via the BBC website.
The BBC has joined forces with the Public Catalogue Foundation to display the hidden art work in a project called Your Paintings.
One piece of public art on display in South Yorkshire is a painting of Andrew Carnegie, one of the world's richest men which hangs in Swinton Library.
The picture was created by local artist Phil Padfield using spray paint.
In 2004 Mr Padfield was leading a workshop for young people teaching them about using graffiti art in a positive way rather than causing vandalism.
Steel fortune
Rita Leary, the principal library assistant at Swinton Library, said: "I saw Phil painting the picture and he told me the painting would probably not be hung anywhere because it was too big. I knew we had to have it."
Rita persuaded her boss at Rotherham Council to re-house the picture.
The picture, which now hangs high up on the wall of the library, features Carnegie who made his fortune in the steel industry in America and created free public libraries across the world.
The first libraries in Rotherham were established due to a donation he made.
The artist Phil Padfield said: "I got a photograph of Carnegie and read up on him before starting the picture and was really pleased with the finished painting."
Carnegie was born in 1835 in Scotland and moved to the USA in the 1840s.
He gave away over $350m over his lifetime.
Mrs Leary said: "People do come and ask about the picture and try and guess who it is, not many people know about the connection to Andrew Carnegie, it is a good talking point."