HMP Lindholme Prison making 'solid progress'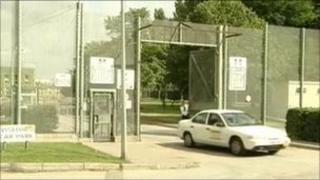 An unannounced inspection of a South Yorkshire prison has found it to be making "solid progress".
The inspection of HMP Lindholme near Doncaster found it had made safety improvements and provided prisoners with purposeful activity.
But Chief Inspector of Prisons, Nick Hardwick said: "There remained plenty of scope for further improvements."
The January inspection made 106 recommendations for the category C prison.
The previous full inspection of the prison in 2007 found there were significant shortfalls in safety.
Cell regulations
In comparison inspectors said there was now good provision for those at risk of self-harm, an improvement in security and good staff-prisoner relationships.
But inspectors said they remained concerned to find limited resources and staff absences had impacted upon the provision for black and minority ethnic prisoners, foreign nationals and prisoners with disabilities.
The report listed 106 recommendations including the provision of interpreting services for prisoners with poor English and cells designed for one prisoner not to be used for two.
It was also outlined that prisoners should spend 10 hours out of their cell each day with a minimum of 30 minutes in the library each week.
Sufficient resources were also needed to be made available for routine and targeted searches to be conducted.
Mr Hardwick said: "Commendably, staff and managers had addressed most of the weaknesses in safety that had concerned us on our previous inspection.
"There remained plenty of scope for further improvements, for example in diversity, catering and resettlement."