Serious case reviews: Call to publish child case findings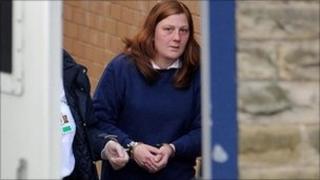 The government has been urged to publish two of the last decade's most notable serious case reviews (SCRs) more than a year after it promised to do so.
The torture of two children by two young brothers in Edlington, South Yorkshire and the kidnapping of Shannon Matthews in Dewsbury, West Yorkshire, were the subjects of full investigations.
However, only the executive summaries of the SCRs have been made public.
While in opposition that decision was criticised by Conservative leader David Cameron who said it gave the impression of an "establishment stitch-up".
The coalition government subsequently promised to make the full reports public, but that still has not happened.
The Edlington case was one of a series of serious case reviews that exposed failings within Doncaster children's services.
'How many must die?'
One of the other reports focused on the murder of toddler Amy Howson.
The 16-month-old was killed when her father deliberately broke her spine. It was one of seven deaths of child abuse victims between 2004 and 2008 that eventually led to a government team taking over the department.
Amy's grandfather Colin Hunt believes that all serious case reviews should be published in full to ensure that social workers, police and others learn lessons.
"How many kids are going to die before they get it right?" asks Mr Hunt.
"The serious case review helped me because I knew exactly where the mistakes were."
Jim Board of Unison, the union which represents many of the social workers working in Doncaster, said: "The fact that they haven't gone ahead and published them, I think indicates that now they are in power they are starting to realise how complex a picture it is.
"I think the Conservatives at the time they were making these statements were playing opposition politics."
The government said there were still plans to publish the overview reports into both the Shannon Matthews and the Edlington cases, although no date had yet been set.
"The publication of SCR overview reports is a sensitive and complex matter," said a Department for Education spokesperson.
"It is vitally important that published SCR overview reports are appropriately redacted and anonymised to protect the privacy and welfare of vulnerable children and their families and that proper consideration is given to both the public interest in publishing overview reports and the welfare of children involved in the case.
"This process needs to be conducted very carefully and thoroughly and takes time.
"Until this process is complete we cannot make firm commitments on timescales."
Troubled background
However, there are some who believe that publishing too much information can have a damaging effect, particularly when it involves young people.
The two brothers who were responsible for the vicious attack in Edlington were well known to the authorities and came from a very troubled background.
Mike Stein, a professor of social policy at the University of York, feels strongly that the fine details of the case should not be revealed.
"I still think the publication of that information will breach principles of privacy and confidentiality and undermine possible rehabilitation," says Professor Stein.
"And we have to remember in the Shannon Matthews case, there was a very young person with her life still before her.
"She should have the opportunity to fulfil that, without resurrecting the full glare of publicity around her life."