Sheffield scarf business, Yaelle, booms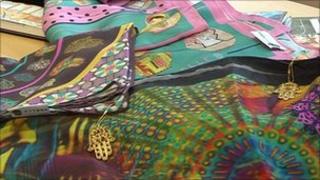 A designer from Sheffield who set up a business from her parents' kitchen table has gained recognition in the fashion world.
Yaelle Caplan from High Storrs began designing luxurious silk scarves after graduating from Manchester Metropolitan University two-years ago.
Since starting her company Yaelle in 2010 at her parents home she has gained attention from the fashion media including Vogue's fashion blog and Stylist magazine.
The 25-year-old came up with the idea out of the blue. "I literally woke up one morning and just sat at my kitchen table and started designing," she said.
Since her scarves were featured, Miss Caplan has been commissioned by a Mayfair hotel to design and create scarves for its staff.
Miss Caplan who runs the company by herself is also in negotiations with a store who are looking to stock the pieces on Bond Street in London.
The Yaelle hand-designed silk scarves feature a variety of brightly coloured designs, from Russian dolls through to the hamsa hand which symbolises happiness, luck, health, and good fortune.
Miss Caplan has now moved her business from her parent's kitchen to an office at Chimney House at Kelham Island.
Miss Caplan said the whole experience had been "overwhelming at times"
As for the future, Yaelle may head south. "I would eventually like to go to London, I feel like that's where it all is," said Miss Caplan.