Student faces US extradition over copyright charges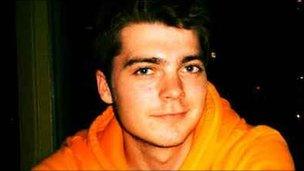 A computer science student from Barnsley faces extradition to the US on copyright infringement charges.
Sheffield Hallam University student, Richard O'Dwyer, 23, appeared before Westminster magistrates as part of the extradition process. He was bailed.
The accusations relate to a website he set up where films and videos could be watched online.
Mr O'Dwyer is due to appear before Westminster Magistrates Court again on 12 September.
His lawyers argue he should be tried in the UK, and that he did not host the copyrighted material.
As a condition of his bail, Mr O'Dwyer, must not access the website or register another domain name.
If Mr O'Dwyer is extradited he faces one count of conspiracy to commit copyright infringement and one of criminal infringement of copyright.
He faces a maximum sentence of five years in jail in the US.
People were not charged to view the material, but Mr O'Dwyer did make money from advertisements on the site.
Mr O'Dwyer's mother, Julia O'Dwyer, from Bolsover, Derbyshire, said she was shocked by the proceedings.
"To me he's just a geeky boy, who sits in his room messing on his computer.
"Let's hope our government can bring some common sense to bear to put an end to such unnecessary, yet deeply traumatic, extradition demands.
"We have a perfectly good justice system in the UK - why aren't we using it in cases such as this?"
Related Internet Links
The BBC is not responsible for the content of external sites.