Sheffield City Council: Labour reverses £2m cuts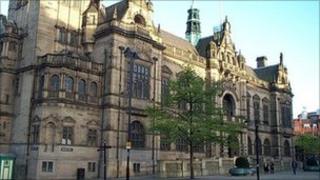 The Labour council in Sheffield is to reverse £2m of spending cuts made by the Liberal Democrats who ran the authority until May's elections.
The council has to make £80m of savings this year amid government funding cuts.
Labour said its revised budget would restore funding to key areas including apprenticeships, adult social care and more Police Community Support Officers.
The Lib Dems said it was worrying that Labour's "spending splurge" would be partly funded by dipping into reserves.
In the 6 May local election, Labour took control of Sheffield City Council with 49 councillors out of a total of 84, taking nine seats from the Lib Dems, who have 32.
'More painful'
Lib Dem group leader Shaffaq Mohammed said: "If Labour empty the council coffers now then there won't be anything left when it comes to setting the budget next year.
"I fear that Labour's actions will only lead to higher council tax bills and more painful cuts to bread-and-butter services later down the line."
Labour said the £2m "will be met from a mix of reducing costs and making efficiencies, such as rationalising the council's transport fleet, and savings in funding streams".
Council leader Julie Dore said: "We've decided that the authority had to restore funding to areas that matter to local people and give us the ability to deliver the right kind of services in the right way with the support of local people.
"I am pleased to say the council has now restored funding to these areas."
'Innovative' thinking
The key areas that have been financed as part of the revised budget include:
* £500,000 to create apprenticeships for young people aged 16 to 19.
* £400,000 for support in adult social care.
* £300,000 for 10 Police Community Support Officers.
* £247,000 for childcare subsidies.
* £132,000 for the bulky waste service and to reintroduce a free rat treatment service for all households.
Labour said it had also decided to plan its budget over the next three years rather than on an annual basis "to take into account budget pressures and the need to think innovatively".