Doncaster Rovers' Donny Dog underwear pose mascot reinstated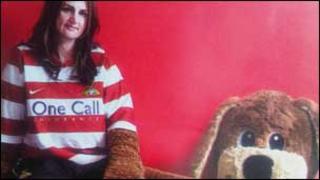 A woman sacked as Doncaster Rovers' mascot Donny Dog after posing in her underwear with the costume has been offered her job back.
The football club's chairman John Ryan confirmed to the BBC he had offered Tracy Chandler her job back.
Ms Chandler was dismissed by e-mail from the unpaid job after she appeared in the Sunday Sport in her underwear.
Mr Ryan said the situation was a "storm in a tea cup", while Ms Chandler insisted the photos were not "seedy".
'Tongue-in-cheek'
Mr Ryan said: "The Sunday Sport and a mascot designed for children is not an ideal mix.
"We were just a bit concerned about the sexualisation of young children, it's a tricky area these days, we're putting it right, maybe it was a mistake.
"As far as I'm concerned I'm going to put this whole thing to bed and let Tracy get on."
Ms Chandler, who has been working as the Championship club's mascot for more than three years and claims to be the only woman mascot in the country, said she was approached to pose for the photos after an article about her appeared in another newspaper.
"The photos were tongue-in-cheek and not seedy," she said.
But she said when she received the e-mail notice of dismissal she felt like she was "handing over my best friend".
"It really upset me, I thought 'this is the end'. Everything I worked for, it's gone, and obviously I broke down and I got really upset about it.
"He [John Ryan] said it's one big understanding, you're not fired, I'm sorting it all out, don't worry, you'll be back to work next week.
"I just couldn't believe it. It were better than winning the lottery to me, it was just brilliant."