Rotherham FC lent £5m by council for football stadium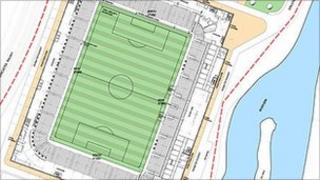 Rotherham Council has agreed to lend £5m to the town's football club to help it build a new stadium.
The funding is part of £17.3m needed to build Rotherham United's ground and bring the club "back home". The team have played in Sheffield since 2008.
The club unveiled plans last year to build a 12,000-seat community football stadium in the town centre.
Rotherham Council said that the stadium was "key to the regeneration" of the town.
'Long journey'
The football club left its original ground, Millmoor, when it was unable to agree terms with the owners and temporarily moved to nearby athletics ground Don Valley.
The Football Association gave the club five years to move back to the town.
Chairman of Rotherham FC Tony Stewart said the council and the club were "determined" to make it happen.
"We've managed to overcome all the trip wires and hurdles throughout the long journey that this project has presented and now we can all look forward to witnessing the stadium being constructed."
Labour leader of the council Roger Stone said the stadium would leave a "positive legacy" on the town.
End of June
He added: "The terms of the agreement mean that there will be no cost to Rotherham's council taxpayers, but our residents, schools, businesses and voluntary and community groups will reap the benefits for years to come - by using the facilities or by the stadium generating more town centre visitors on match days."
The club has agreed to pay the £5m council loan before 2016.
A further £12m is being raised by the football club using various sources as part of the cost of building the Millers' new stadium.
The new football ground is part of the Rotherham Renaissance Scheme. This project will see £40m invested in the town centre over 25 years.
The final detailed planning application for the community stadium is due to be submitted to the council at the end of June, with work due to start in July.