Doncaster Council to cut up to 700 more jobs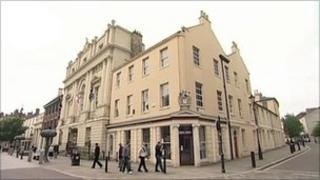 Doncaster Council has announced it is to cut up to a further 700 jobs this year in a move to make large savings.
The South Yorkshire authority has already announced the loss of hundreds of jobs, but now a second wave of cuts is to be implemented.
Chief executive Rob Vincent said: "There is still a need to look at further reductions of up to 700 posts in this financial year."
Unison said it was now hoping members would vote for industrial action.
Previously Unison, the largest union at the council with 5,000 members, said job losses would hit services for "the most vulnerable people".
It claimed 700 jobs had been lost since Christmas, with more to be cut over the coming year.
'Positive result'
In a statement, Mr Vincent said: "We will explore every option to manage these reductions and we will only consider compulsory redundancy as a last resort."
Unison spokesman Jim Board said the situation at the council was deteriorating.
He said: "You can imagine that, at the moment, our relationship with Doncaster Council is heading for the basement in a fast elevator.
"We've tried to work in good faith with Doncaster Council, we've tried to find a way forward, clearly at the moment this is a massive setback.
"We're in the middle of a ballot for industrial action and this will prompt many of our members who have not voted to reconsider their position and to vote.
"We're hoping to get a positive result in that ballot. If that is successful we will be aiming to take industrial action."
Doncaster Council has already confirmed that it has to save £71m by 2015, and said "employees know we are in a difficult position".
The council is run by an elected mayor, Peter Davies, an English Democrat, but has a majority of Labour councillors.