Sheffield residents urged to prepare for future floods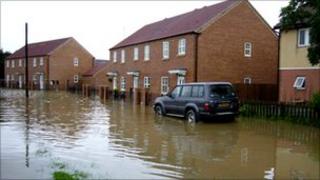 Four years after the floods which hit South Yorkshire, home-owners are being warned about the risks of flooding.
Winn Gardens in Sheffield was one of the worst affected areas in the city, with dozens of homes having to be abandoned when the River Don flooded.
On Friday residents in the Middlewood area were being given information on how to prepare for future flooding as part of Flood Awareness Day.
Residents are being urged to be "better prepared in case it does happen again".
In March a network was set up called Sheffield Flood Resilience with the aim of helping people to become more resilient to flooding.
The group is encouraging residents to put together a flood kit with essentials such as clothing and medication so they are ready to leave home quickly.
Groundwork project manager Anna Cooper, who is one of the partners involved in the Flood Awareness Day, said: "We just want more people to be prepared.
"The 2007 flood took everyone by surprise last time and if you're prepared it does reduce the impact on yourself and your property."