South Yorkshire fire engine needs repairs weeks after launch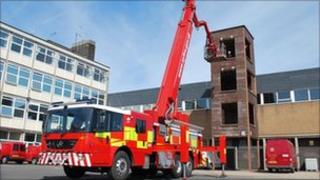 A fire engine has been sent for repairs only weeks after coming into service in South Yorkshire.
The Combined Aerial Rescue Pump (CARP) used in Barnsley needs repair work on the generator and pump.
Older fire trucks have been brought back into service while repairs are made. The fire service said the repairs were due to "teething problems".
They said emergency responses would not be affected, but the fire brigade union (FBU) has voiced concerns.
CARPs were designed to both fight fires and act as an aerial rescue platform, and so reduce staffing levels.
Secretary of South Yorkshire FBU, John Gilliver said: "Our staffing has reduced so much and these CARPs were supposed to alleviate a problem.
"You are going to have to replace those [staff]."
Five-year delay
A spokesman for South Yorkshire fire service said: "As is usual for any new vehicle design, there have been some small teething problems.
"We would reassure the public that this has not affected our ability to respond to emergencies, and the appliance will be returned to normal duties as soon as possible."
The fire service bought four trucks in 2006 at a cost of £2m, but they required modification after being too heavy to use legally on roads.
The Barnsley engine is one of two which went into service at the beginning of May after a five-year delay.
The two remaining engines are being used for training.