Restoration plan for South Yorkshire stately home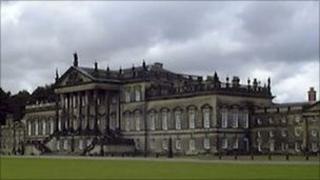 A stately home in South Yorkshire is set to undergo a multi-million pound restoration and development that will see the building transformed into a hotel, museum and spa.
Wentworth Woodhouse, between Rotherham and Barnsley, has been privately-owned by an architect from London since 1999.
But now plans have been drawn up to transformed the building and open it for public access by 2015.
English Heritage said it welcomed the plans for the estate.
The property is the former home of the Fitzwilliam coal mining family but had fallen into a state of structural disrepair, partly because of the number of mining shafts in the area.
Office use
The building boasts 1,000 windows and has 365 rooms along with stables for 100 horses.
Part of the scheme would see the stable block converted for office use.
English Heritage and Rotherham Council have backed the scheme.
The main house would be restored to its original condition and opened as a museum.
Part of one wing of the property would become a 70-bed hotel and spa.
A spokeswoman for English Heritage said: "We are working with the owners to help them to secure the sustainable re-use of this fantastic place.
"We are particularly keen to see the stables repaired and brought into business use, which would be a real asset for the area, and have been helping to put funding in place for this".