New material to combat counterfeit banknotes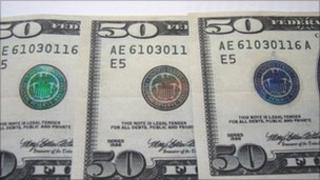 Scientists have developed a material which mimics the rainbow effect of butterfly wings to help the fight against counterfeit money.
The intensely-coloured polymers are difficult to copy, researchers at the universities of Hull and Sheffield say.
They do not use pigments but exhibit intense colour due to their structure, similar to the way nature does on beetle shells and butterfly wings.
The colour also changes depending on the viewing angle.
Scientists believe the new system could have advantages in terms of cost, processing and colour selection compared with existing systems.
The complexity of the chemistry involved in making the polymers means they are very difficult for fraudsters to copy, making them ideally suited for use on passports or banknotes.
'Funky-coloured'
The academics used Diamond Light Source, the UK's national synchrotron science facility in Oxfordshire, to probe the ordered, layered structures using high-power X-rays.
This helped them understand how the colours were formed, and how to improve the appearance.
Dr Andrew Parnell, from the University of Sheffield's department of physics and astronomy, said: "Our aim was to mimic the wonderful and funky-coloured patterns found in nature, such as peacock feathers.
"We now have a painter's palette of colours that we can choose from using just two polymers to do this.
"We think that these materials have huge potential to be used commercially."