River scan machine used in Andrew Gosden search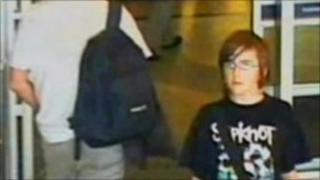 The parents of a teenager missing for more than three years have used sonar scanning technology along the River Thames in London in the search for him.
Andrew Gosden was 14 when he left his family home in Doncaster, South Yorkshire, on 14 September 2007.
The only confirmed sighting of him was at Kings Cross in London the same day.
Special sonar technology designed to help find drowning victims has been used in the search for Andrew but no trace of him was found.
His father Kevin said the family decided to approach a private firm and having decided their son may now be dead.
He said: "None of us in our family can imagine that Andrew can be about for this long without making contact of any kind because he was always quite a caring, thoughtful personality.
"We just find it impossible to conceive that he would allow us to go through all this for so long without even some kind of message to let us know he's okay.
"I guess we start thinking more about could he have been suicidal and hidden it well or could he have been abducted?"
'Never-ending limbo'
Last year, the family marked Andrew's disappearance with a church service and a huge leaflet drop in London.
Posters with a photographic impression of Andrew aged 16 have also been created and put up across the capital.
Mr Gosden said the family had mixed feelings following the river search.
"I think we knew from the outset that you couldn't win with this.
"If we found Andrew was under the Thames then that would bring us closure but raise a host of questions about how he ended up there.
"With not finding him there's a positive there in that statistically that would raise the chance that he is still alive and well somewhere, but it still leaves us in this horrible ongoing, never-ending limbo of just thinking 'why did you go?'."
Anyone with information about Andrew's whereabouts is urged to contact South Yorkshire Police.