Labour takes control of Sheffield City Council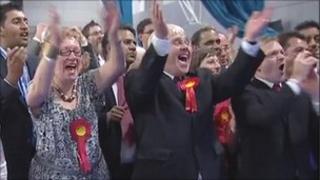 Labour has taken control of the council in Sheffield - the city where Lib Dem leader Nick Clegg is an MP.
Labour now has 49 councillors out of a total of 84, taking nine seats from the Liberal Democrats who have 32. The Lib Dems lost overall control last year.
Two Green councillors and one independent held on to their seats in an election which saw a high turnout.
The outgoing Liberal Democrat council leader Paul Scriven said he believed it was a "short-term setback".
He added: "We came into this [the coalition government] not for short-term party gain but to sort out the mess Labour left.
"Maybe in three or four years time people will look back and say 'Maybe we were a little harsh on the Liberal Democrats'."
'Clegg pneumonia'
Labour leader of the council, Julie Dore, said the result was "bigger and better than we imagined".
"We've been working those streets, and knocking on those doors, and telephoning and leafleting and doing all those things for weeks and weeks, so it was always possible," she said.
Former Labour home secretary David Blunkett, MP for Sheffield Brightside and Hillsborough, said the unpopularity of his fellow Sheffield MP Mr Clegg was to blame for Lib Dem council losses.
Mr Blunkett had said he had hoped Labour would take six seats, while Lib Dem officials in the city said earlier they expected to lose 12 seats.
Mr Blunkett added that "Cleggmania" had turned into "something akin to Clegg pneumonia".
Overall turnout was higher than usual in some Sheffield wards, including Greaves Park where turnout was 48.2% and Stannington where it stood at 46.2%.
Broomhill, a student-heavy area of the city, was one of the wards that changed from Lib Dem to Labour control.
In 2010 the Lib Dems lost control of Sheffield - the city which includes their leader Nick Clegg's parliamentary constituency - leaving it with no party in overall control, though the Lib Dems had remained the largest party, with one councillor more than Labour.
A third of seats are up for election in the metropolitan authorities of Barnsley, Doncaster and Rotherham.
There is also a UK-wide referendum on whether to adopt the alternative vote (AV) for Westminster elections.