Animals killed in Stocksbridge farm fire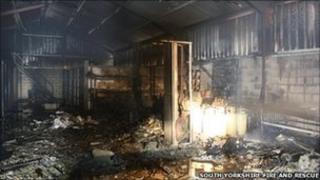 Dozens of animals have died in a barn fire at a farm in South Yorkshire.
The fire killed four horses, 20 pigs and scores of chickens at Machin Farm, Stocksbridge, on Monday night.
Six liquid propane gas cylinders had to be cooled by the emergency services after the blaze.
Crews returned on Tuesday morning as smoke was still coming from the site. An investigation has begun into the cause of the fire.
A fire service spokesman said: "This is an extremely sad incident. The fire took hold very quickly and unfortunately, despite the best efforts of the crews at the scene, the animals could not be saved."